Don't Fence Me In - Fay Godwin's Photographic Journey
Our long-awaited film profile of photographer Fay Godwin is finally being released, with a premiere at the British Library Knowledge Centre, 7pm, Thursday 11th Jan 2018.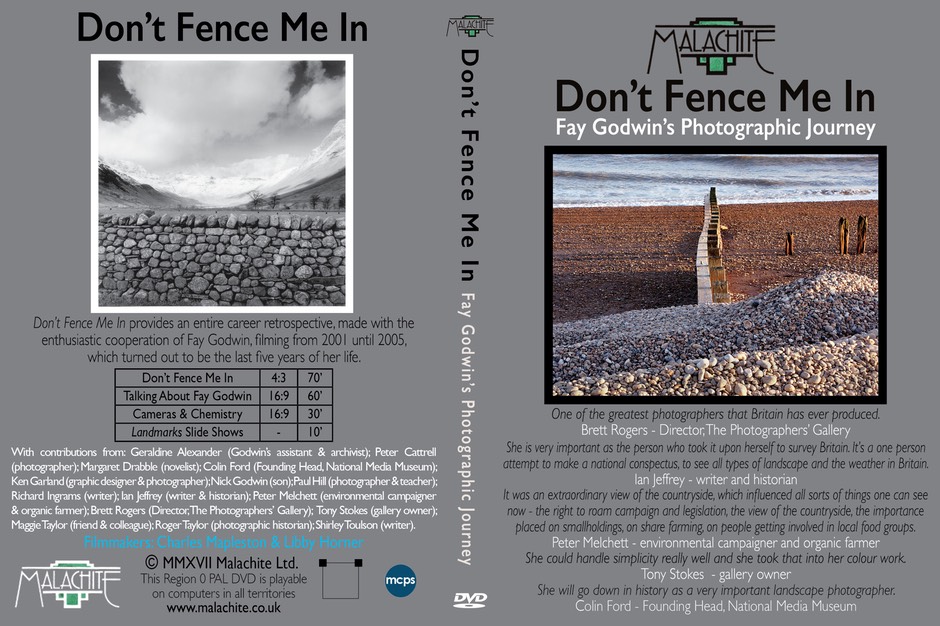 Don't Fence Me In - provides an entire career retrospective, made with the enthusiastic cooperation of Fay Godwin, filming from 2001 until 2005, which turned out to be the last five years of her life.
Progressing from family snaps to documenting Camden social services, and a remarkable sequence of literary portraits, Fay Godwin moved into landscape photography for a series of walkers' books which evolved into photographic collaborations with major writers, notably Ted Hughes. There followed a series of substantial volumes, which provided a conspectus of British landscape, culminating in the polemical Our Forbidden Land, made when Godwin was elected President of the Ramblers Association and documenting much that was wrong with the way the landscape was managed. Godwin was appointed Photographer in Residence at Bradford's National Media Museum and expressed a desire to work in colour for the first time, documenting the city's dazzling multicultural landscape. She moved from the macro to the micro as she became increasingly obsessed with details of gardens and plants close to home, often seen through glass, gauze and netting. Whilst for much of Godwin's career she used a black and white chemical darkroom, latterly she eagerly embraced digital colour technology with the same enthusiasm and eye for detail.
 The film is structured through Godwin's appearance on Desert Island Discs and around three major retrospective shows of her work, first at London's Barbican Centre, then the Sainsbury Centre at the University of East Anglia and finally at the Scottish National Portrait Gallery, Edinburgh.
After the premiere on 11th January 2018, DVD copies of Don't Fence Me In will be available direct from Malachite for £16 inc. UK post & packing.
VANESSA BELL (1879-1961)
Our DVD A Painter's Paradise on The Restoration of Charleston Farmhouse, was recently on sale at the Dulwich Picture Gallery, in support of their exhibition on Vanessa Bell.
8th February - 4th June 2017
FAY GODWIN at MOMA Machynlleth 11 February 2017 to 01 April 2017               The Drovers' Roads of Wales and Other Photographs
A new exhibition built around photographs from the book Fay Godwin made with writer Shirley Toulson opens in Wales this month. On Saturday 11th March, there is a FILM & DAY EVENT at which there will be a preview screening of our new film Don't Fence Me In followed by talks and discussion, organised by the Penrallt Gallery Bookshop.
Don't Fence Me In, along with two additional films Talking About Fay Godwin, and Cameras & Chemistry is soon due for release on DVD.
TALKING ABOUT KEN RUSSELL                                                            24/4/16
It was my very good fortune, back in the day when I was on BBC staff, to work on several occasions with Ken Russell who, through his amazing films for Monitor, was the inspiration for me wanting to become a filmmaker.
I was therefore delighted to make a tiny contribution to a brilliant new book Talking about Ken Russell, an 'in depth' study of the great man and his films by Paul Sutton, who has carried out massive research and has interviewed almost everyone who ever worked with Russell on virtually all of his many films, both for TV and cinema.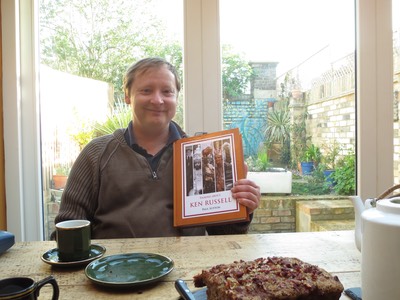 Paul has just delivered my copy of his splendid tome to our Cambridge office "for the price of tea and cake" and sent me this appraisal by Tim Lucas, editor of US magazine Video Watchdog:
"If you read Paul Sutton's TALKING ABOUT KEN RUSSELL from cover to cover, as I have just done, and then page through it once again to savor the pictured achievements of the life you've just read lived, you will come away with a huge emotion. In part because you'll understand in a way you didn't before that Russell's films weren't simply made by a genius, whether on a good day or a bad day; they had to be forged from fire that a great many people marched through in terror and trepidation, which they did because it made them one of their general's army - and thus immortal." Tim Lucas
 if only more of our celebrated filmmakers had a volume such as this about their work we would be fortunate indeed. I urge you to buy a copy of this magnificent book as soon as possible. You can find it on Amazon.
PIERRE BOULEZ, CONDUCTOR and COMPOSER DIES AT 90             (6/1/16)
Goodbye Pierre Boulez, brilliant conductor of the BBC Symphony Orchestra who took part in our film profile of opera diva Jessye Norman without payment, on condition that Clause #10 of our Agreement with him was carried out "to the letter" - Clause #10 specified that Boulez would be delivered a fine Stilton cheese and a bottle of port!
MAGNUM OPUS SCREENING FEATURED IN ITALIAN PRESS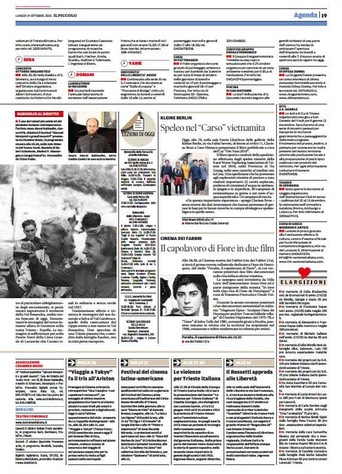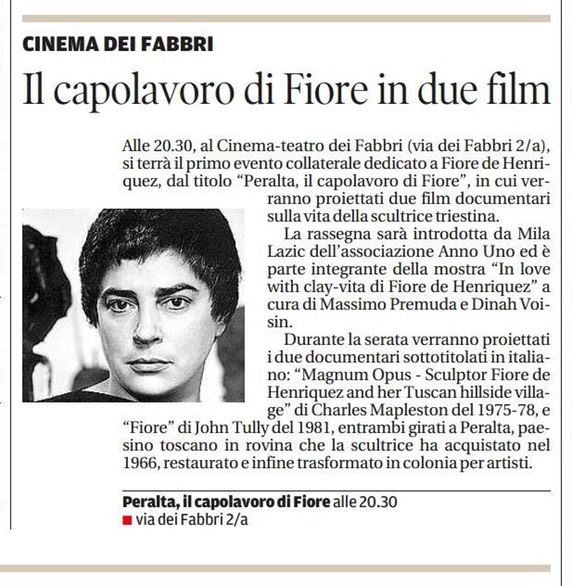 MAGNUM OPUS SCREENED IN TRIESTE ITALY, CITY OF FIORE'S BIRTH
Our film Magnum Opus will be shown at the Cinema Teatro dei Fabbri in Trieste on Monday 19th October 2015, introduced by Croatian cinema critic Mila Lazić. Additionally, it will be screened each day at the DoubleRoom Gallery, also in Trieste, to accompany an exhibition about Fiore de Henriquez and her work, which runs from 16 October 2015 until 29 January 2016.
We now have an Italian language poster for the film, and you can read all about the show, in Italian, by following the link below:
FIORE de HENRIQUEZ FILM PROFILE RENAMED Magnum Opus
Whilst fine-tuning the editing, we have been struggling for quite some time to find a suitable name for this wide-ranging and visually rich film. Initially it was named after one of Fiore's works featured in the film, The Carniverous Plant; this was then rejected in favour of Crazy from the Beginning! which was how Florynce Kennedy, one of the film's contributors, described her. This in turn has now been rejected in favour of Magnum Opus, which refers to Fiore's own great work, the rebuilding of Peralta her Tuscan hill village, whilst also referencing the works of Michelangelo, her famous forebear.
PERALTA HILL VILLAGE nr. CAMAIORE, TUSCANY ITALY
We travelled to Tuscany in late June 2014 for the premiere screening of our new film on sculptor Fiore de Henriquez (see blog). Our film 'The Carniverous Plant' was launched as part of a double bill, including 'Fiore', made by Richard Whymark, based in Austin Texas. The films were screened to a large group of Fiore friends, colleagues and admirers at  Peralta, which must be one of the most delightful settings for a film show on the planet!
TATE MODERN GALLERY, LONDON
Our short film "Like the Book of Kells", extracted from Episode One of our six-part Channel Four series "Looking into Paintings", is still on the Tate Gallery website in support of their recent major Richard Hamilton retrospective exhibition.