Dressing Up for the Carnival: A Portrait of Carol Shields May 2023
First broadcast in the UK in May 2002, BBC4 are now re-broadcasting our film profile of Canadian Writer Carol Shields, at 22:30 on Monday 1st May 2023. A slightly shorter version of this programme,  Life & Times of Carol Shields, was broadcast in Canada by CBC in March 2021 and was a reviewed by the Globe & Mail, Canada's national newspaper.
Great Noises that Fill the Air October 2021
The British Film Institute (BFI) has recently (October 2021) released a 2-Disc DVD Set of films originally produced for the Arts Council between 1978 and 1996, including Malachite's Music in Progress: Mike Westbrook - Jazz Composer.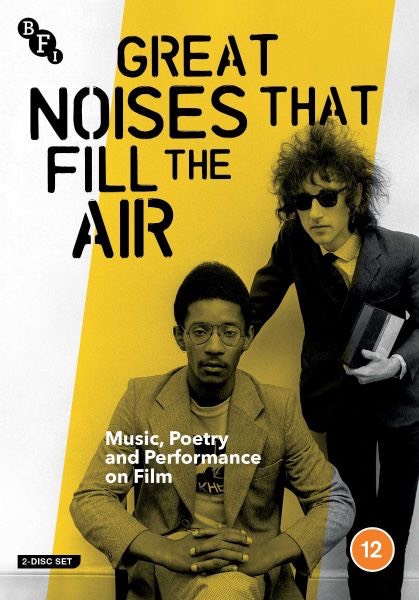 In the second half of the twentieth century Arts Council funding enabled independent filmmakers to push hard at the creative boundaries of documentary production, enabling an eruption of diverse, dynamic, cutting edge works able both to stimulate the intellect and enflame the senses. 
From the streets of Brixton and Manchester, via leafy suburbs, to junk yards, punk venues and inner-city community centres, this carefully curated selection documents, celebrates and showcases an eclectic mix of music, poetry and spoken word performance, in a collection of film and video works made between 1978 and 1996, and rarely seen since. 
By turns poetic and impressionistic, personal and experimental, these bold works all highlight the potential of documentary to challenge, celebrate, excite, fight and inspire.
You can buy a copy from the BFI here

In their October 2021 issue, UNCUT magazine reviewed the DVD set with some favourable comments on our film:
This grab bag of Arts Council Of England arts documentaries from the late '70s to the mid-'90s aspires to capture the great noises of the second Elizabethan era. From Linton Kwesi Johnson filmed in Brixton in 1979, to John Cooper Clarke in Manchester in 1982, via the radical compositions of Cornelius Cardew, the cultural fusion of Asian Dub Foundation and the brass band fantasia of Mike Westbrook, the collection looks, on the face of it, like a testament to a gloriously various lost age of state-funded arts programming, capturing the moment of punk cabaret, early Channel 4 and arts centre metal bashing.
More germane and the most charming discovery here is Charles Mapleston's 1978 film about Mike Westbrook, following his eccentric big band as they bring their curious jazz compendium of William Blake, Bertolt Brecht and Billie Holiday to shopping centres and concert halls across Europe. Like Robert Wyatt or John Peel, Westbrook and his band feel like one of those uncanny confluences of postwar English culture, bringing together pop, prog, avant-garde, folk and jazz in way that feels uniquely, beautifully of its time and place.
You can read the full review here
Don't Fence Me In at British Library 11 January 2018
After our successful Premiere screening at the British Library (see below) the DVD, featuring Don't Fence Me In plus two additional films and two Slide Shows is now available. Total running time 170 minutes. The price is £10 + post & packing (UK £2).
To buy a copy, email us with your name and postal address and either send us a PayPal payment e.g. UK paypal.me/filmcan/12 or request us to send you a PayPal invoice.
The premiere screening of Don't Fence Me In - Fay Godwin's Photographic Journey was held at the British Library Knowledge Centre on Thursday 11 January 2018.  The 250 seat theatre was sold out and the audience included such luminaries as Margaret Drabble, Richard Ingrams, Ian Jeffrey, Peter Melchett and Brett Rogers.
The film was introduced by three speakers, Dr Geraldine Alexander, Charles Mapleston and Colin Ford CBE.  The Godwin scholar Geraldine Alexander explained why the Godwin archive resides in the British Library and placed it within the context of similar photographic archives.  Charles Mapleston, the filmmaker, worked with Godwin from 2001 to 2005 which turned out to be the last five years of her life; she appeared to have enjoyed the process, explaining her working methods and her campaigns - an entire career retrospective.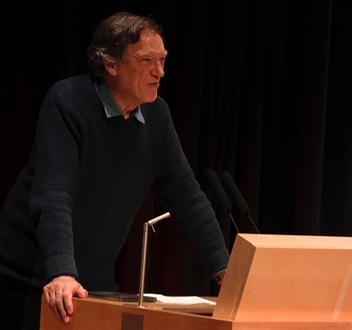 He explained the format of the DVD - the main film concentrates on Godwin in her own words.  There are two supplementary films: Talking about Fay Godwin weaves together interviews held with those who had worked with the photographer, and Cameras and Chemistry, in which Fay Godwin's technical explorations and methods and their impact on her work, from Agfa Rapid papers to the Zone System, are discussed and analysed; also included are B&W and Colour Slide Shows of her photographic work.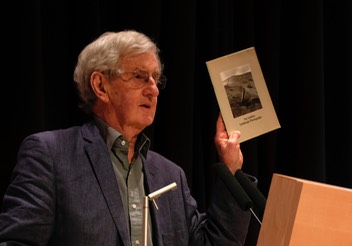 In his speech Colin Ford noted that photography is still considered a poor cousin in the art world and yet the National Museum of Photography, Film and Television, Bradford, of which he was the first Director, became the world's most popular institution devoted to photography and had, at the time, the highest attendances of all British museums, exceeded only by the top five major London museums.  He proposed Godwin as Visiting Fellow in 1997/1998 and suggested she moved from her trademark black and white landscapes to colour – and what better place to do this than the vibrant multi-cultural city.  Godwin revelled in the change and her later work moved from macro to micro, and from film to digital.
After the introductions, Don't Fence Me In was screened through the Knowledge Centre's splendid projection system, playing from a high resolution file. The 70 minute film was roundly applauded and afterwards there was a veritable stampede to buy DVDs.  Contributors to the film, and photography and film colleagues of the filmmaker, were treated to wine in the Chaucer Room.  Nick Godwin felt the film was a fitting tribute to his mother and Margaret Drabble expressed her appreciation of the portrait.  
Peter Melchett wrote: 'I really do congratulate you on a wonderful job. It captured Fay's passion and her extraordinary range of work brilliantly. Needless to say, I was delighted that her strong views on public access, the countryside and the environment more generally with so well represented in the film, particularly given how much you had to cover!'
Other attendees noted:
'So much to say about it and her and the delicacy and warmth you showed all the way through.  It was so intimate, yet it felt like her pace. So much not said - husband, family – so much just about her, just her.  And those earrings - mesmerising!  Her face, her voice, her almost childlike curiosity and her immense drive and sophistication. An extraordinary portrait.'
'I found the narrative you constructed from the interviews so compelling!  I was fascinated to hear how people talked about her and her work, and enjoyed listening to the different perceptions and viewpoints.  I am going to watch that again to listen more carefully to their interpretations, opinions and explanations.  The choice of locations for the interviewees was great to contextualise them – I loved the ducklings behind Peter Melchett!'
'I was captivated by your film and intrigued by its subject.  I don't think I would have liked Fay much but I certainly admired her work and her outlook.'
And from Jon Fawcett, at the British Library "Delighted that the Library could host the event; Congratulations on the film which was fascinating, fitting and engaging. We were thrilled by the turn out and the warm atmosphere".
Don't Fence Me In - Fay Godwin's Photographic Journey
Our long-awaited film profile of photographer Fay Godwin is finally being released, with a premiere at the British Library Knowledge Centre, 7pm, Thursday 11th Jan 2018.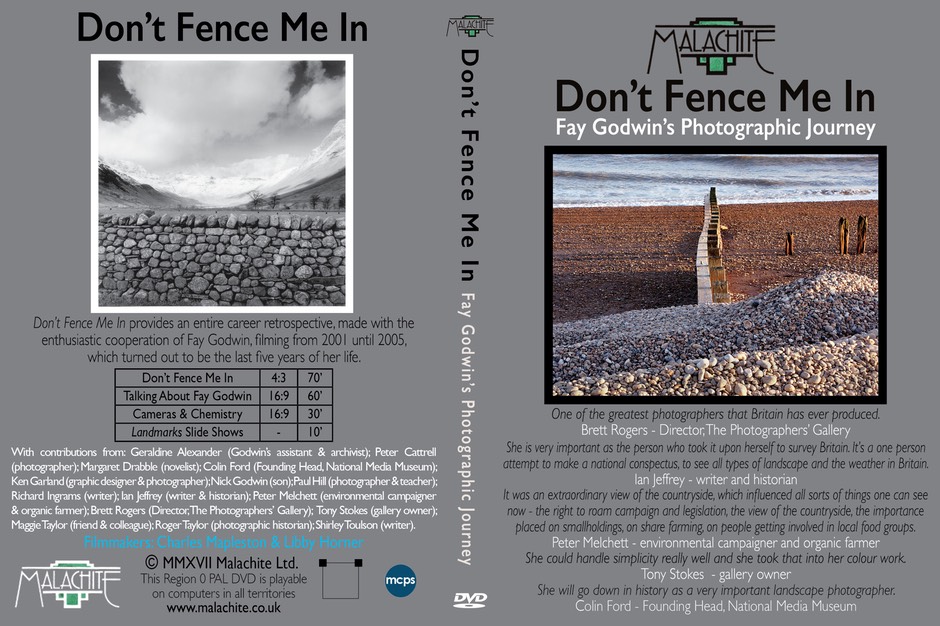 Don't Fence Me In - provides an entire career retrospective, made with the enthusiastic cooperation of Fay Godwin, filming from 2001 until 2005, which turned out to be the last five years of her life.
Progressing from family snaps to documenting Camden social services, and a remarkable sequence of literary portraits, Fay Godwin moved into landscape photography for a series of walkers' books which evolved into photographic collaborations with major writers, notably Ted Hughes. There followed a series of substantial volumes, which provided a conspectus of British landscape, culminating in the polemical Our Forbidden Land, made when Godwin was elected President of the Ramblers Association and documenting much that was wrong with the way the landscape was managed. Godwin was appointed Photographer in Residence at Bradford's National Media Museum and expressed a desire to work in colour for the first time, documenting the city's dazzling multicultural landscape. She moved from the macro to the micro as she became increasingly obsessed with details of gardens and plants close to home, often seen through glass, gauze and netting. Whilst for much of Godwin's career she used a black and white chemical darkroom, latterly she eagerly embraced digital colour technology with the same enthusiasm and eye for detail.
 The film is structured through Godwin's appearance on Desert Island Discs and around three major retrospective shows of her work, first at London's Barbican Centre, then the Sainsbury Centre at the University of East Anglia and finally at the Scottish National Portrait Gallery, Edinburgh.
After the premiere on 11th January 2018, DVD copies of Don't Fence Me In will be available direct from Malachite for £16 inc. UK post & packing.
VANESSA BELL (1879-1961) Dulwich Picture Gallery
Our DVD A Painter's Paradise on The Restoration of Charleston Farmhouse, was recently on sale at the Dulwich Picture Gallery, in support of their exhibition on Vanessa Bell.
8th February - 4th June 2017
FAY GODWIN at MOMA Machynlleth 11 February 2017 to 01 April 2017               
The Drovers' Roads of Wales and Other Photographs
A new exhibition built around photographs from the book Fay Godwin made with writer Shirley Toulson opens in Wales this month. On Saturday 11th March, there is a FILM & DAY EVENT at which there will be a preview screening of our new film Don't Fence Me In followed by talks and discussion, organised by the Penrallt Gallery Bookshop.
Don't Fence Me In, along with two additional films Talking About Fay Godwin, and Cameras & Chemistry is soon due for release on DVD.
TALKING ABOUT KEN RUSSELL                                                            24/4/16
It was my very good fortune, back in the day when I was on BBC staff, to work on several occasions with Ken Russell who, through his amazing films for Monitor, was the inspiration for me wanting to become a filmmaker.
I was therefore delighted to make a tiny contribution to a brilliant new book Talking about Ken Russell, an 'in depth' study of the great man and his films by Paul Sutton, who has carried out massive research and has interviewed almost everyone who ever worked with Russell on virtually all of his many films, both for TV and cinema.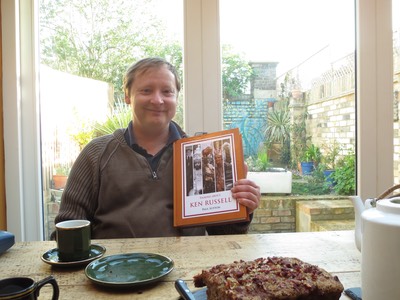 Paul has just delivered my copy of his splendid tome to our Cambridge office "for the price of tea and cake" and sent me this appraisal by Tim Lucas, editor of US magazine Video Watchdog:
"If you read Paul Sutton's TALKING ABOUT KEN RUSSELL from cover to cover, as I have just done, and then page through it once again to savor the pictured achievements of the life you've just read lived, you will come away with a huge emotion. In part because you'll understand in a way you didn't before that Russell's films weren't simply made by a genius, whether on a good day or a bad day; they had to be forged from fire that a great many people marched through in terror and trepidation, which they did because it made them one of their general's army - and thus immortal." Tim Lucas
 if only more of our celebrated filmmakers had a volume such as this about their work we would be fortunate indeed. I urge you to buy a copy of this magnificent book as soon as possible. You can find it on Amazon.
MAGNUM OPUS SCREENING FEATURED IN ITALIAN PRESS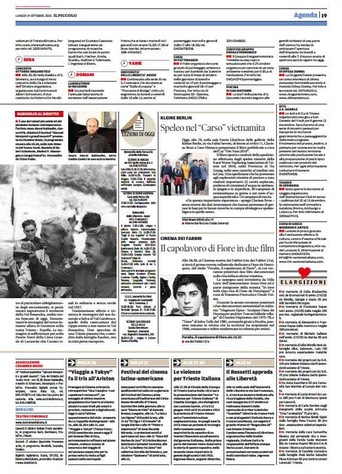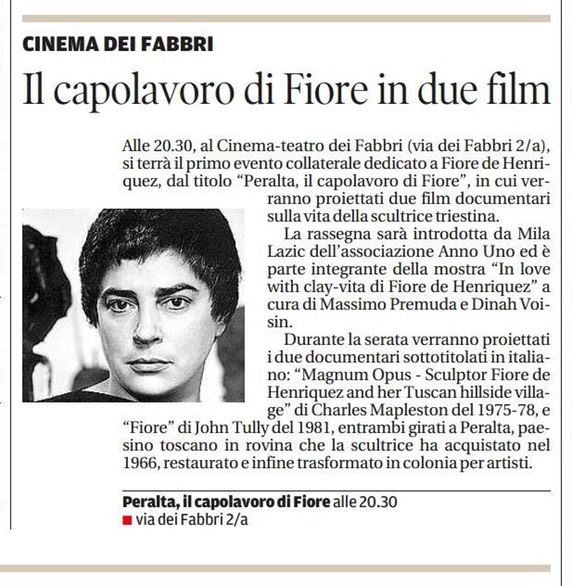 MAGNUM OPUS SCREENED IN TRIESTE ITALY, CITY OF FIORE'S BIRTH
Our film Magnum Opus will be shown at the Cinema Teatro dei Fabbri in Trieste on Monday 19th October 2015, introduced by Croatian cinema critic Mila Lazić. Additionally, it will be screened each day at the DoubleRoom Gallery, also in Trieste, to accompany an exhibition about Fiore de Henriquez and her work, which runs from 16 October 2015 until 29 January 2016.
We now have an Italian language poster for the film, and you can read all about the show, in Italian, by following the link below:
FIORE de HENRIQUEZ FILM PROFILE RENAMED Magnum Opus
Whilst fine-tuning the editing, we have been struggling for quite some time to find a suitable name for this wide-ranging and visually rich film. Initially it was named after one of Fiore's works featured in the film, The Carniverous Plant; this was then rejected in favour of Crazy from the Beginning! which was how Florynce Kennedy, one of the film's contributors, described her. This in turn has now been rejected in favour of Magnum Opus, which refers to Fiore's own great work, the rebuilding of Peralta her Tuscan hill village, whilst also referencing the works of Michelangelo, her famous forebear.
PERALTA HILL VILLAGE nr. CAMAIORE, TUSCANY ITALY
We travelled to Tuscany in late June 2014 for the premiere screening of our new film on sculptor Fiore de Henriquez (see blog). Our film 'The Carniverous Plant' was launched as part of a double bill, including 'Fiore', made by Richard Whymark, based in Austin Texas. The films were screened to a large group of Fiore friends, colleagues and admirers at  Peralta, which must be one of the most delightful settings for a film show on the planet!
Looking into Paintings at TATE MODERN GALLERY, LONDON
Our short film "Like the Book of Kells", extracted from Episode One of our six-part Channel Four series "Looking into Paintings", is still on the Tate Gallery website in support of their recent major Richard Hamilton retrospective exhibition.