The lengths we go to for Frank Brangwyn:
FRANK BRANGWYN.  ART?  IT'S JUST A JOB!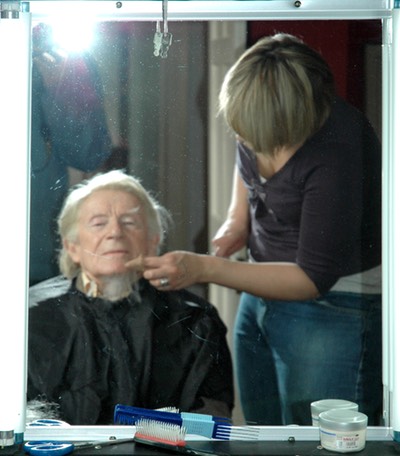 Characters no longer extant – no problem.  Who could play an elderly but still very enthusiastic and forthright Brangwyn and appear as the artist at the opening of the 2006 exhibition in Leeds? Libby interviewed a selection of men, mostly too young, generally rather boring and disinterested in art until she happened on Sam, a tap dancing 94 year young, interior designer, actor, artist and Brangwyn lover!  With the help of a wonderful make-up artist he looked just the part, and certainly acted it.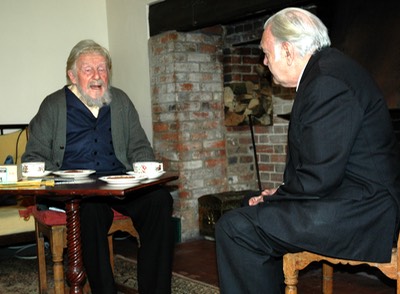 The owners of Brangwyn's former house, The Jointure in Ditchling, allowed us to descend on them and film in the house and garden – AND Sir Donald Sinden agreed to play the part of his father Alfred who was the local pharmacist and as such developed Brangwyn's photographs.
\
FRANK BRANGWYN STAINED GLASS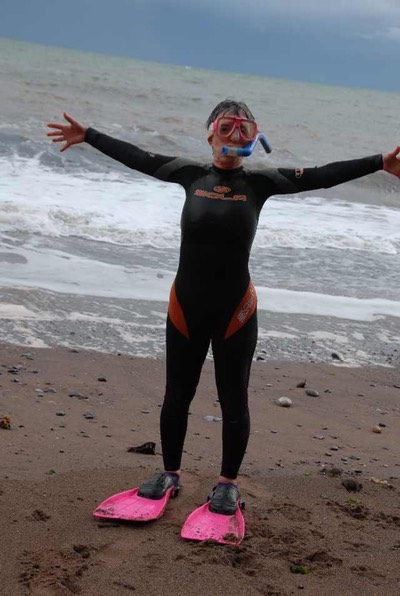 Possibly one of the mosbizarre episodes was when Libby decided to take art history to new depths and undertake some deep sea diving to discover the submerged wreck of the SS Empress of Britain on which there were  – surprise surprise – murals and furniture by Frank Brangwyn!  It was an intensely cold, wet and windy day but Libby felt cosy and warm in her specially hired wetsuit whilst the cameraman (one Mapleston C) ended up with an entire set of sodden clothes.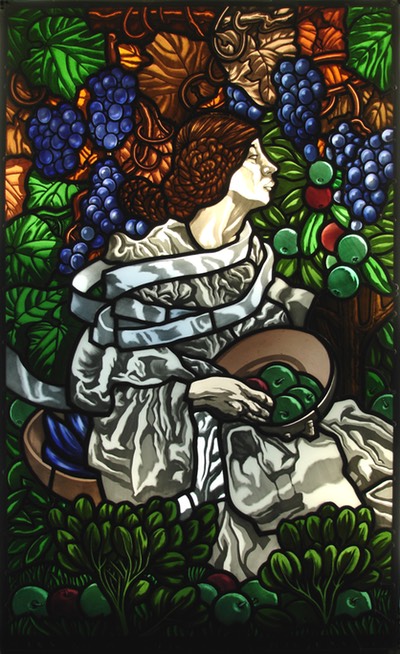 Whilst putting together the film it struck Libby that she had very little idea about how stained glass was made and that others may be similarly clueless.  Serendipity played a major part in that a Brangwyn-loving stained glass artist (and you don't find many of them) had recently contacted her.  Gareth Morgan expressed himself prepared to make a panel from Brangwyn's original design for Tiffany, dated 1898.  We drove down to Wales on a regular basis to film progress and the final panel is absolutely stunning.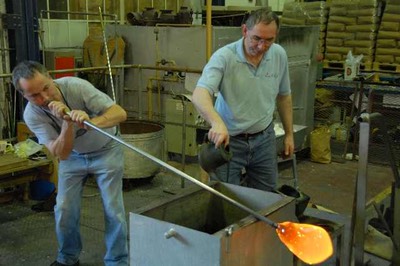 Not content with commissioning this work Libby also felt it necessary to see how glass itself was made which resulted in a trip to English Antique Glass, Redditch, sadly the only place left in this country where glass is still made in the traditional way.  Walter and Harry took us through the processes – at least it was warm for once!
The stained glass window at St Winifred's, Manaton was  dedicated to a young lad Esmond Moore Hunt who suffered from Down's syndrome and died at the age of 19.  Although the child had no formal education and the family were not musical, he was given a pianola and hundreds of rolls of music which he leant to play.  To recreate this scene we visited Cambridge Pianola Company at Landbeach; they found us a contemporary instrument, a suitable roll of music, a young Polish musician named Greg agreed to wear the dated shoes we had brought with us and performed whilst we filmed.  The result can be seen and heard against the background of a storm in Frank Brangwyn: Stained Glass.  Very emotive.